Walk Forward Pro Installation and Setup
An Overview
Installation & Setup Overview
The installation and setup process is illustrated below. It is simple and straightforward providing you carefully perform all instructions exactly as described.
Your Customer Account ID
You should have already been provided with your unique Customer Account ID on the previous screen. We will also email this to you. If you take a look in your inbox, you'll probably find it there within the next few minutes.
If for any reason your Customer Account ID wasn't generated correctly, or wasn't sent in an email to you, then we suggest first checking your spam folder to see if the email is there. If not, get in touch with us as soon as possible at support@tradelikeamachine.com and we will be more than happy to investigate and get your ID sorted quickly.
When you install Walk Forward Pro you will be asked to enter this ID into a screen similar to the one shown below. Simply copy and paste your ID into the white text box, and click 'Submit Now'. This will register the product and unlock all functionality relevant to the licence you have requested.
If for any reason you have not received your ID yet, you can still use Walk Forward Pro for up to 3 days by clicking the 'Later' button as shown below. However, if you haven't registered your product using your Customer Account ID by the end of the 3 days, Walk Forward Pro will then stop working until it is entered, so make sure you let us know as soon as possible if you haven't received it.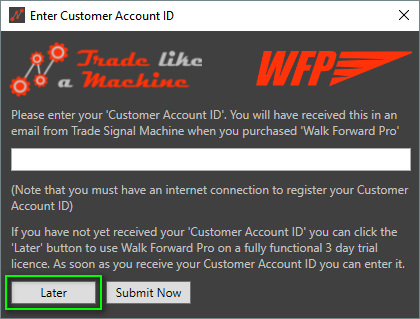 If you click 'Later' and use the 3 day temporary licence, you will be asked to enter your ID each time you restart Walk Forward Pro.
Click the 'Next' button below to proceed to the next step.
Subscribe to our newsletter
By subscribing you are giving your consent to send you emails in accordance with our privacy policy
We are passionate about algorithmic trading, and about helping other algorithmic traders reach their full potential.
We help traders to develop robust trading systems that deliver results in live accounts.
June 12, 2018
---
May 19, 2018
Built in Yorkshire, UK
Proudly serving Europe and the World