Algorithmic trading system optimisation software by
Trade Like A Machine

Walk Forward Pro Software uses multi-stage walk forward analysis, combined with best-practice backtesting & optimization methodologies, to help produce more profitable and robust expert advisors for MetaTrader MT4 and MT5
HELPING YOU TO
TRADE LIKE A MACHINE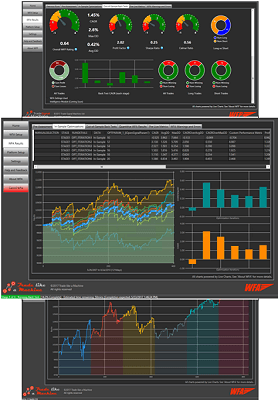 Our Walk Forward Pro software will no longer be sold via 'software-only' licences.
We have made the decison to only make Walk Forward Pro available to those clients who engage Trade Like A Machine for qualifying training and consultancy programmes.
Existing 'software-only' clients will not be affected by this decision.
HELPING ALGORITHMIC TRADERS SUCCEED
Our 'Walk Forward Pro' software provides best-practice backtesting, that's specifically designed to address some of the most common problems that algorithmic traders face when optimizing their expert advisors.
The MT4/MT5
Strategy Tester

When used alongside best-practice backtesting processes, the built-in MT4 and MT5 Strategy Testers can both be effective optimization tools.

However, few traders understand what best-practice back testing encompasses and many never manage to produce profitable systems that deliver the results they expect in their real-money accounts.

Why do most
traders fail?

This is due to a number of reasons: the most important being over-optimization of trading systems.

The majority of traders do not know how to measure the statistical significance of their backtesting and have no idea if they have over-optimized their system. We consider this the #1 reason why over 90% traders fail.

The answer?
Walk Forward Pro

Walk Forward Pro has been designed from first principles to backtest and optimize trading systems using best-practice.

First and foremost all testing is undertaken using scientific principles and techniques to produce statistically significant results, leading to more robust trading systems.

"I've been using Walk Forward Pro for just 1 week, but this thing has already blown me away. I have never seen anything so sophisticated but easy to use. Walk Forward Pro is a MUST-HAVE for every systematic trader who wants to take his/her trading to the next level. Martyn (Founder of Trade Like A Machine) is willing to help in every respect and provides answers to every question at ultra lightspeed. Keep up the great work!"
Volker
Trader (Germany)

"If you want to build robust and profitable trading systems, Walk Forward Pro is a 'must-have' tool in your arsenal. I've been a professional developer of algorithmic trading systems using MT4 and MT5 for many years. MetaTrader lacks critical functionality that I consider essential to build robust trading systems - Walk Forward Optimization / Walk Forward Analysis. Walk Forward Pro fills this gap perfectly, and makes a complex process seem easy. Also technical support is of the highest quality"
Nitin Raj
Professional Trading System Developer and Trader (India)

"Within two days of buying Walk Forward Pro I was up and running and had completed the first phase of optimisations of a new EA. This had an already respectable out-of-smaple return-to-drawdown ratio over a 10 year period. Thanks to the built-in machine learning module, during phase two I was able to quickly improve the performance and robustness of the system."
Dr Sam Beatson
Quantitative Financial Econometrics Researcher and Trader (UK)

"Walk Forward Pro is a great tool which tightens the gap between financial institutions and private developers. It provides a perfect environment to perform high quality walk forward analysis for EA development. The sophisticated UI lets you visually understand the correlation between optimized parameters and gives you insight to evaluate truly effective parameters in real world trading. I also need to mention the five star customer support and dedication for further improvement of the product. Great work!"
Allen
Trader (Japan)

"Walk Forward Pro was the best back testing tool I could find, and provides the most reliable results based on walk forward analysis. After backtesting a system I have the information and confidence needed to trade it. Walk Forward Pro software in my opinion gives its best only when you have sufficient historical data and when you dedicate time to the process. We all need to make sacrifices to achieve something in our lives, and this is the perfect tool when mixed together with your effort!! Since purchasing I have received many functionality updates from Trade Like a Machine and they are continually working to improve the product."
Alfredo Carta
Trader (London, UK)

"I love Walk Forward Pro and the niche it fills. I have been waiting for something like this. I have made a number of requests for product enhancements and these have now been added to the product. I like Trade Like A Machine's dedication to the whole Walk Forward Pro project and the way they communicate with customers like me. - Thumbs up!"
René
System Developer and Trader (Germany)
About Walk Forward Pro
A new approach to backtesting and optimization software
Multi-stage Walk Forward Analysis
Widely considered by professionals to be the most effective optimization approach - the gold standard - keeping systems in tune with the markets whilst promoting robusteness.
How is Walk Forward Pro different?
Most backtesting tools provide functionality and features that look great in principle - however our experience is that many of these features promote over-optimization. This results in really great looking back tests, but systems that fail in your live, real money account.
Scientific, statistically-based approach
We have no interest in great looking backtests. Everything we build into our software promotes robustness, and focusses on delivering production-ready trading systems. Our Machine Learning algorithms provide intelligence to the user to increase the statistical significance and reliability of results.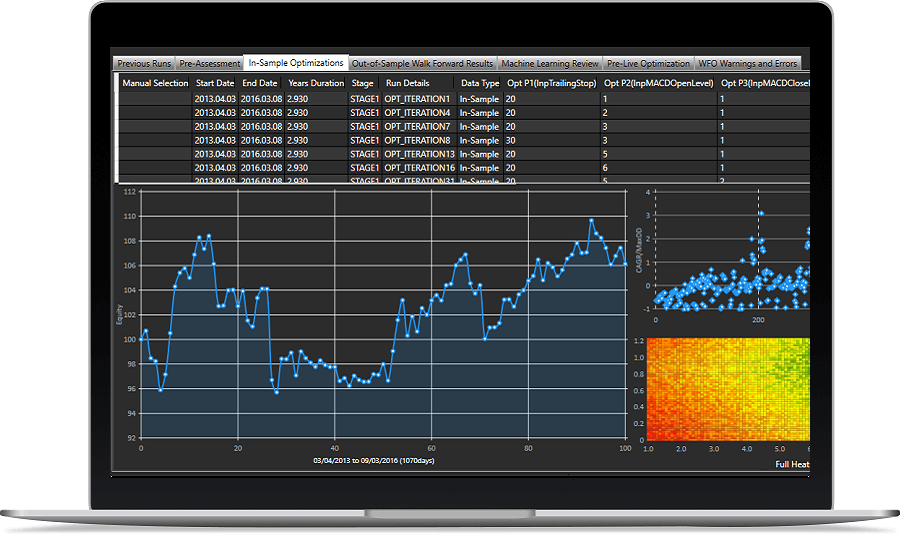 Integrates to MT4 and MT5 using interfaces that are 100% supported and documented by MetaQuotes. This requires some minor code additions to your mql4/mql5 source code1.
1If you have purchased an EA and do not have the source code you will not be able to use Walk Forward Pro
Are you ready to take the next step towards your
successful career

as a trader?

Get started today and optimize your trading systems like a professional.
Need more information first? Sure, no problem. Carry on reading...
DESIGNED BY TRADERS
BUILT BY TRADERS
FOR TRADERS
The majority of commercial backtesting products use features specifically designed to appeal to traders, in order to increase sales. However, often these software suppliers don't even use their own products to develop systems or trade the markets.
We think this is a direct conflict of interests and leads to features being developed in their systems that can sound really impressive to the customer, but unfortunately often lead to curve-fitting and over-optimization. The outcome of this for the trader is that impressive looking backtests are produced, but the systems lose money as soon as they are traded in a live account.
Walk Forward Pro is completely different. It has been built with one intention in mind. To assist with trading system development, producing backtests that are statistically significant, and systems that are robust in real-time trading. Trading institutions and intelligent retail traders across the World are choosing Walk Forward Pro.
Are you ready to take the next step towards your
successful career

as a trader?

Get started today and optimize your trading systems like a professional.
Need more information first? Sure, no problem. Carry on reading...
Why Trust TRADE LIKE A MACHINE?
Did you know that most organizations selling trading products and services don't actually trade themselves? Their business models are built purely on selling products and services.
At Trade Like A Machine it's different. We're really passionate about systematic, algorithmic trading. We trade the markets each and every day, so we understand your challenges and issues. We understand the highs and the lows that you experience. This gives us a unique insight, allowing us to provide products and services to our customers that deliver what they really need.
Furthermore we publish our trading track record for everyone to see. We don't hide the bad days. We believe in full transparency, and so we publish both the good and the bad. Every trader has bad months, and we're no different. Why not take a look?
View Our Track Record
Are you ready to take the next step towards your
successful career

as a trader?

Get started today and optimize your trading systems like a professional.
Need more information first? No problem, we suggest you take a look at the Walk Forward Pro User Hub. This is packed with useful resourses such as FAQs, user guides, videos, software release notes, and more.
Also, remember we're always here to help, or answer any specific questions you have.
Subscribe to our newsletter
By subscribing you are giving your consent to send you emails in accordance with our privacy policy
We are passionate about algorithmic trading, and about helping other algorithmic traders reach their full potential.
We help traders to develop robust trading systems that deliver results in live accounts.
June 12, 2018
---
May 19, 2018
Built in Yorkshire, UK
Proudly serving Europe and the World