Getting Started with Walk Forward Pro
Getting Started Guide | Walk Forward Pro is a feature-rich application to help robustly backtest and optimize trading strategies using Walk Forward Analysis.
Introduction
Walk Forward Pro is an application that allows trading strategies to be tested using a technique known and Walk Forward Analysis (WFA), sometimes called Walk Forward Optimization (WFO).
For more information on the WFA process, see Understanding the Walk Forward Analysis Technique
The main Walk Forward Pro screens
This 'Getting Started' guide provides basic information on the main screens in the Walk Forward Pro application. It acts as a great starting point for all new users. For more detailed information on the various screens and how to use them, see additional articles in the user guide.
'Home' Screen
After starting Walk Forward Pro, the user is presented with the 'Home Screen'. This provides links to useful resources and information.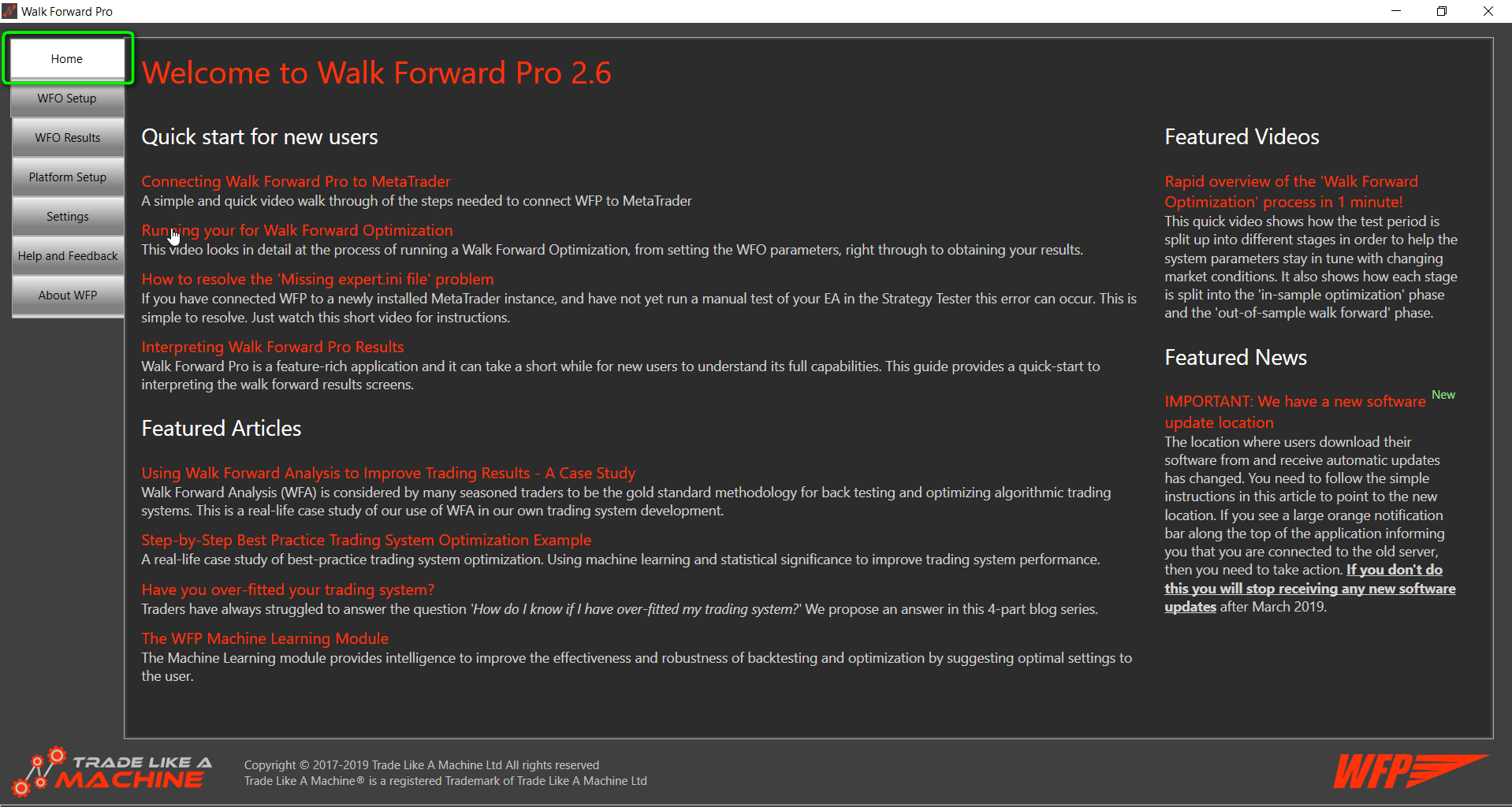 'WFO Setup' Screen
This is the main screen you will use to set up the metrics and parameters for your Walk Forward Optimization.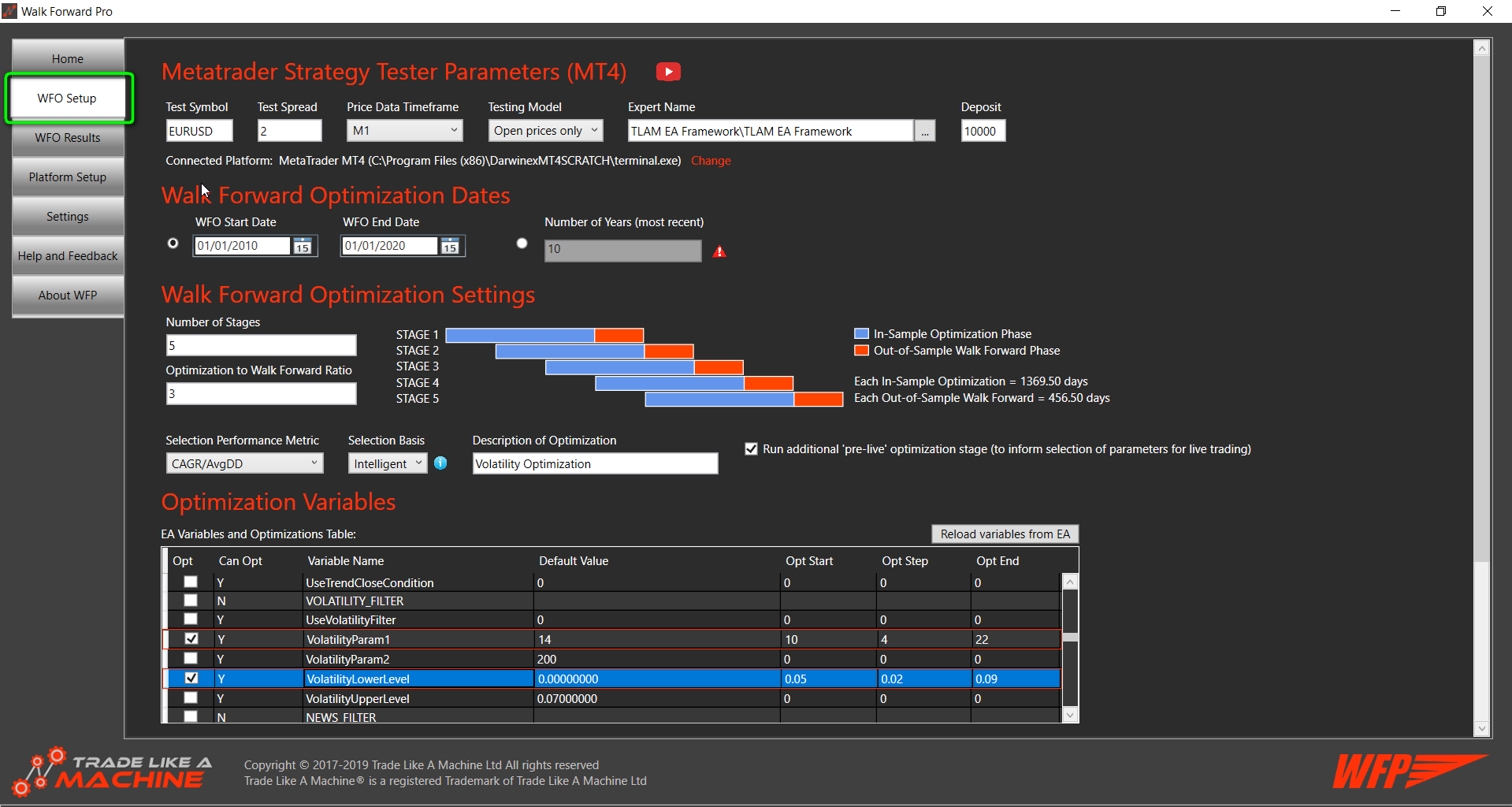 You will use this screen to set:
Basic information e.g. the chart symbol and chart timeframe to use, spread value, expert advisor name, etc.

The metrics for the WFO e.g. number of stages, optimization to walk forward ratio, start and end dates, etc.

The parameter optimization values

Parameter selection criteria to use e.g. Profit Factor, Expectancy, CAGR/MaxDrawdown, CAGR/AverageDrawdown, or your own Custom Performance Criterium

Whether to use standard or genetic optimizations
'WFO Results' Screen
This screen has a number of sub-screens as can be seen below: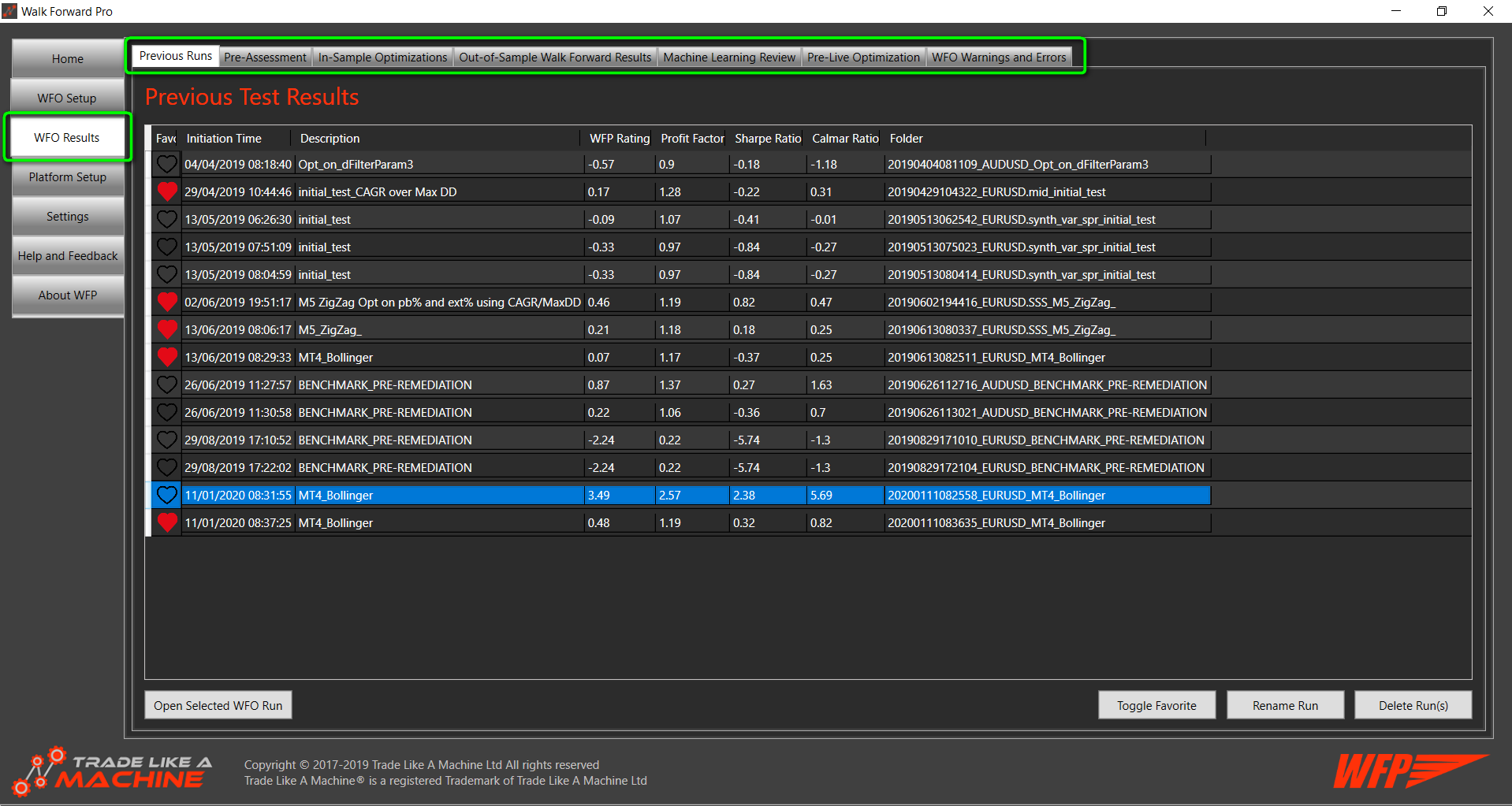 WFO Results - 'Previous Runs'
The first sub-screen within 'WFO Results' (shown above) allows a user to view 'Previous WFO Tests' that have been performed. Every completed test that has been undertaken in Walk Forward Pro is saved, allowing the user to re-open these at any point in the future for further analysis, or to request the settings used for a test are re-used, making re-tests quick and simple to set up.
WFO Results - 'Pre-Assessment'
This sub-screen provides the results of the pre-assessment that is undertaken before each WFO. This helps identify any potential issues with parameters, statistical significance, or missing price data etc. This is a critical part of the process since before being notified by Walk Forward Pro, many users have informed us that they didn't even know there were for example gaps in their price data. These warnings give the user the information to allow them to fix issues and therefore perform more reliable optimizations in the future.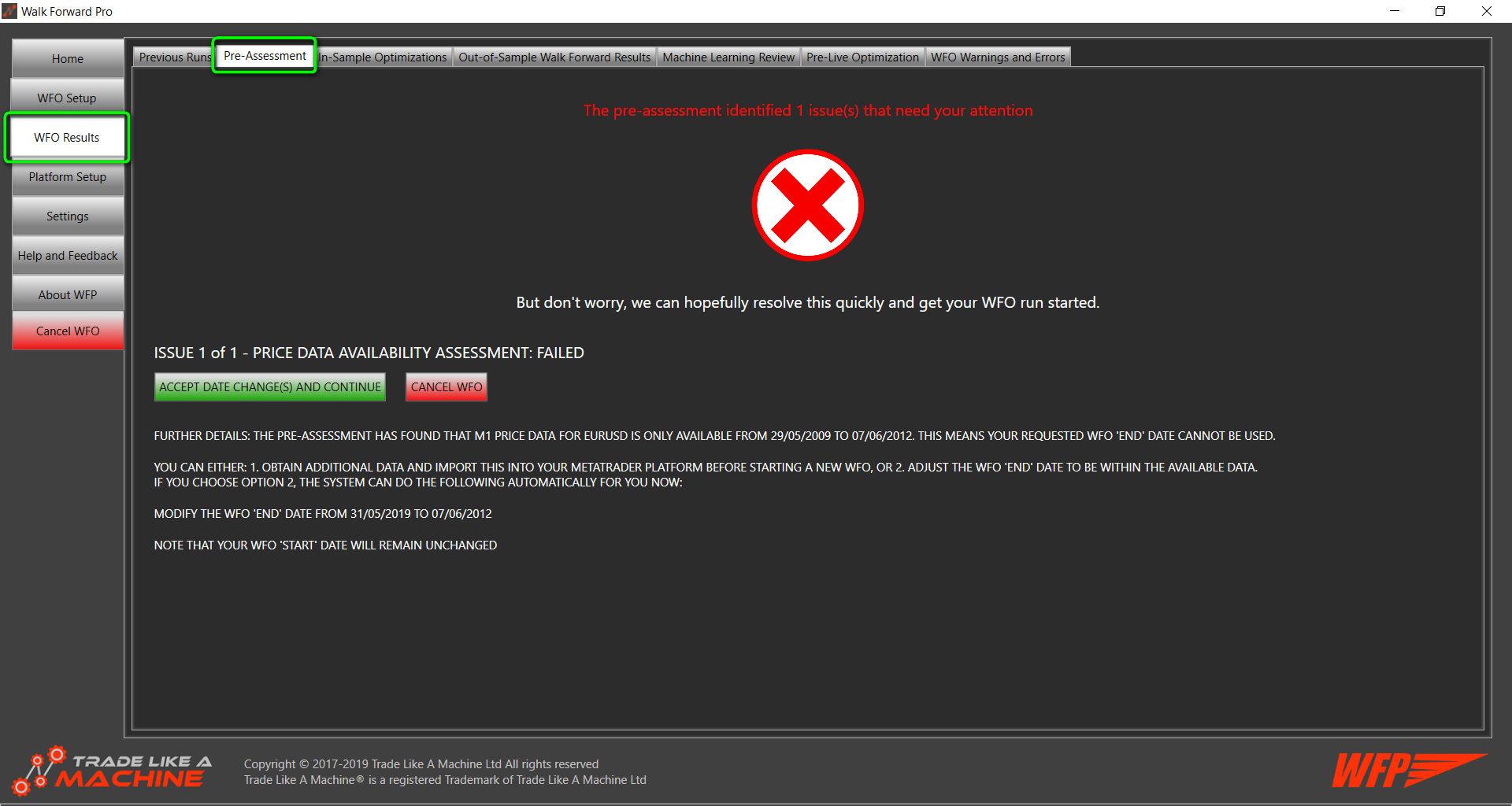 WFO Results - 'In-Sample Optimizations'
This screen shows the results from each in-sample optimization. The table shows a ranked list with the best performing parameter values at the top. The equity curve for each set of values can be viewed by the user, in addition to scatter and heat-map representations of the optimization.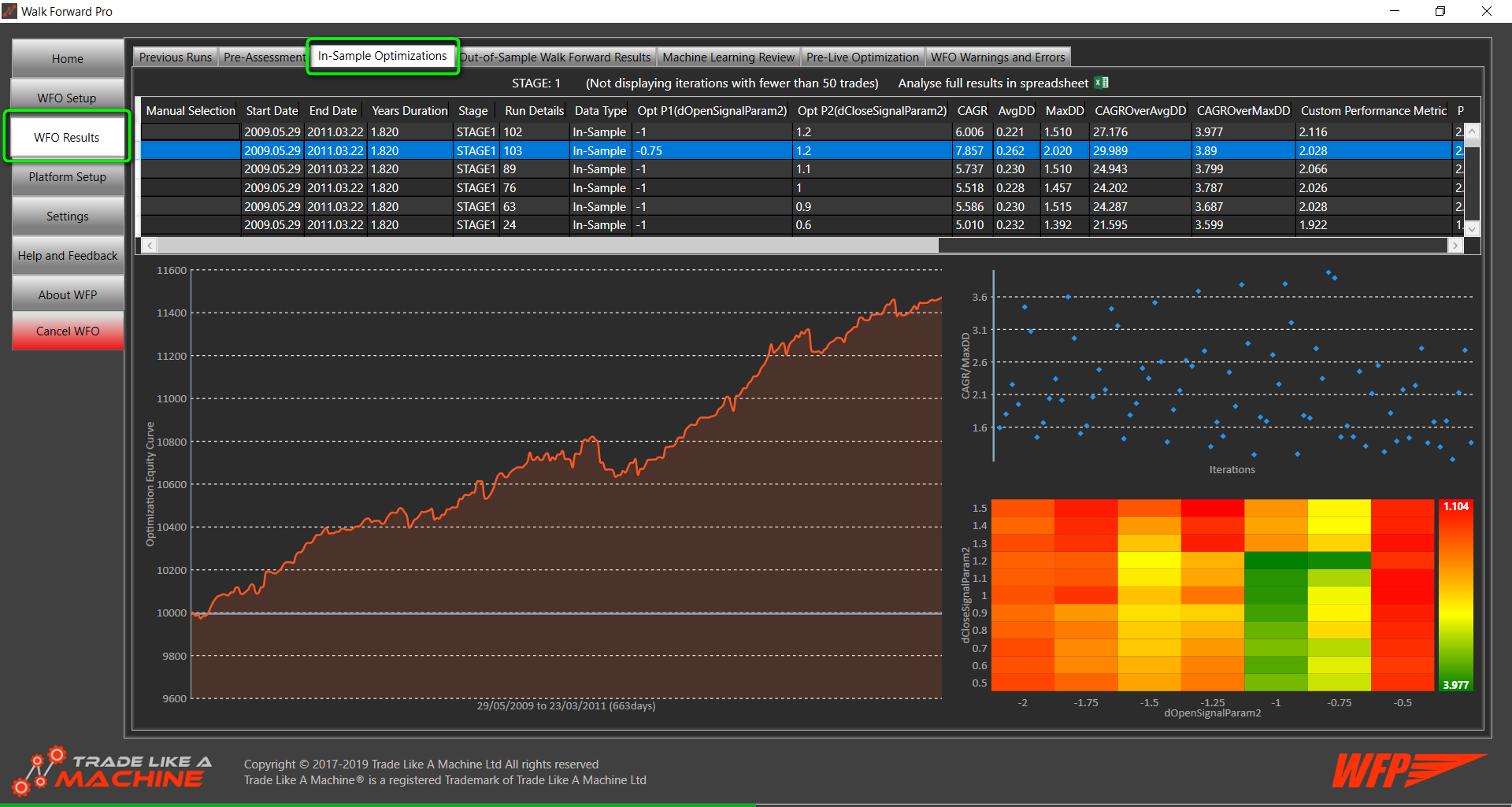 WFO Results - 'Out-of-Sample Walk Forward Results'
This is probably the most important screen in Walk Forward Pro since it shows the out-of-sample walk forward results for all stages of the WFO. Each of the coloured sections of the equity chart represent a walk forward phase for each of the stages (6 stages in this case). This alongside many other metrics, provide information to the user regarding the effectiveness of the trading system.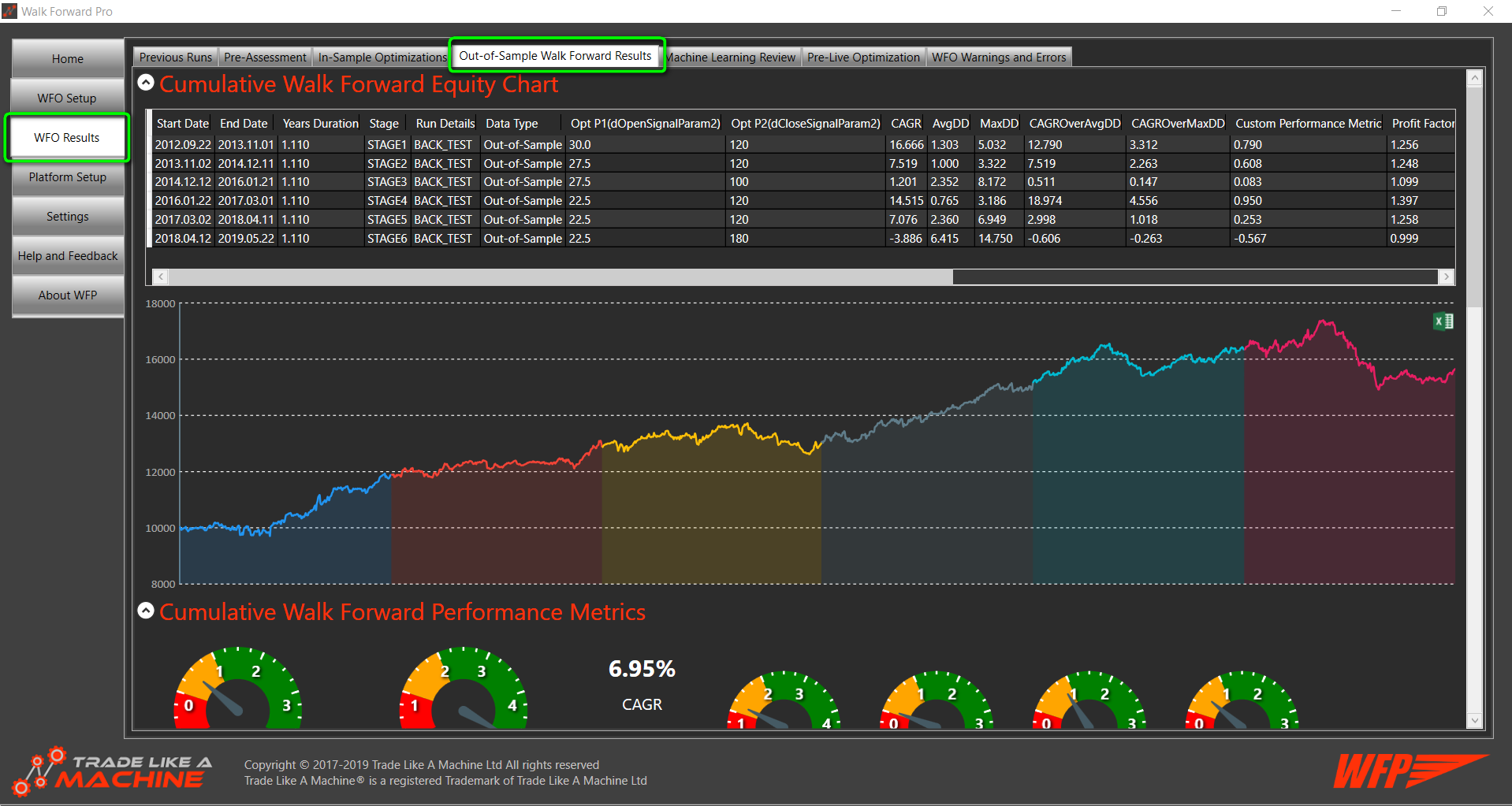 WFO Results - 'Machine Learning Review'
The machine learning module provides the user with useful intelligence about how future optimizations can be improved. For example it provides advice regarding how the results might be improved by increasing the statistical significance of the testing process. This could involve for example, changing the number of stages, or the 'optimization to walk forward' ratio.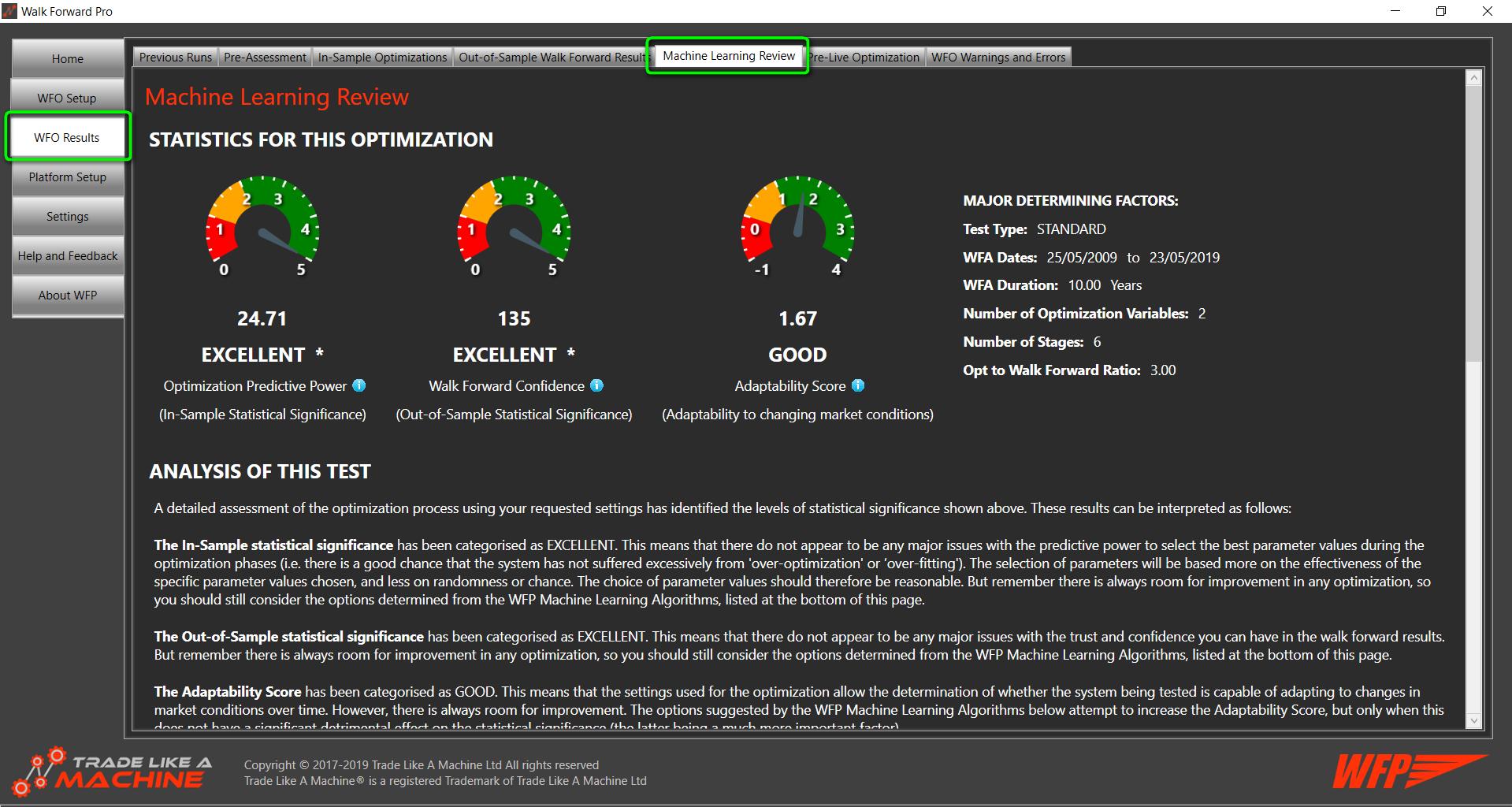 WFO Results - 'Pre-Live Optimization'
This screen provides details of the paramaters that are performing best based on recent market dynamics and price action. These are the parameters that should be used in live trading if the user considers the results of the back test are good enough to trade.
WFO Results - 'WFO Warnings and Errors'
This screen makes the user aware of any important warnings or errors that were encountered during the optimization, so that the user is fully aware of any actions they need to take to rectify and make future optimizations run more effectively.
'Platform Setup' Screen
This screen allows the user to select connections to the desired MT4 and MT5 installations on your PC. All MT4 and MT5 installations are automatically detected and displayed in the table. The user simply needs to select the instance they wish to use. Walk Forward Pro supports optimizations in both MetaTrader standard and portable modes.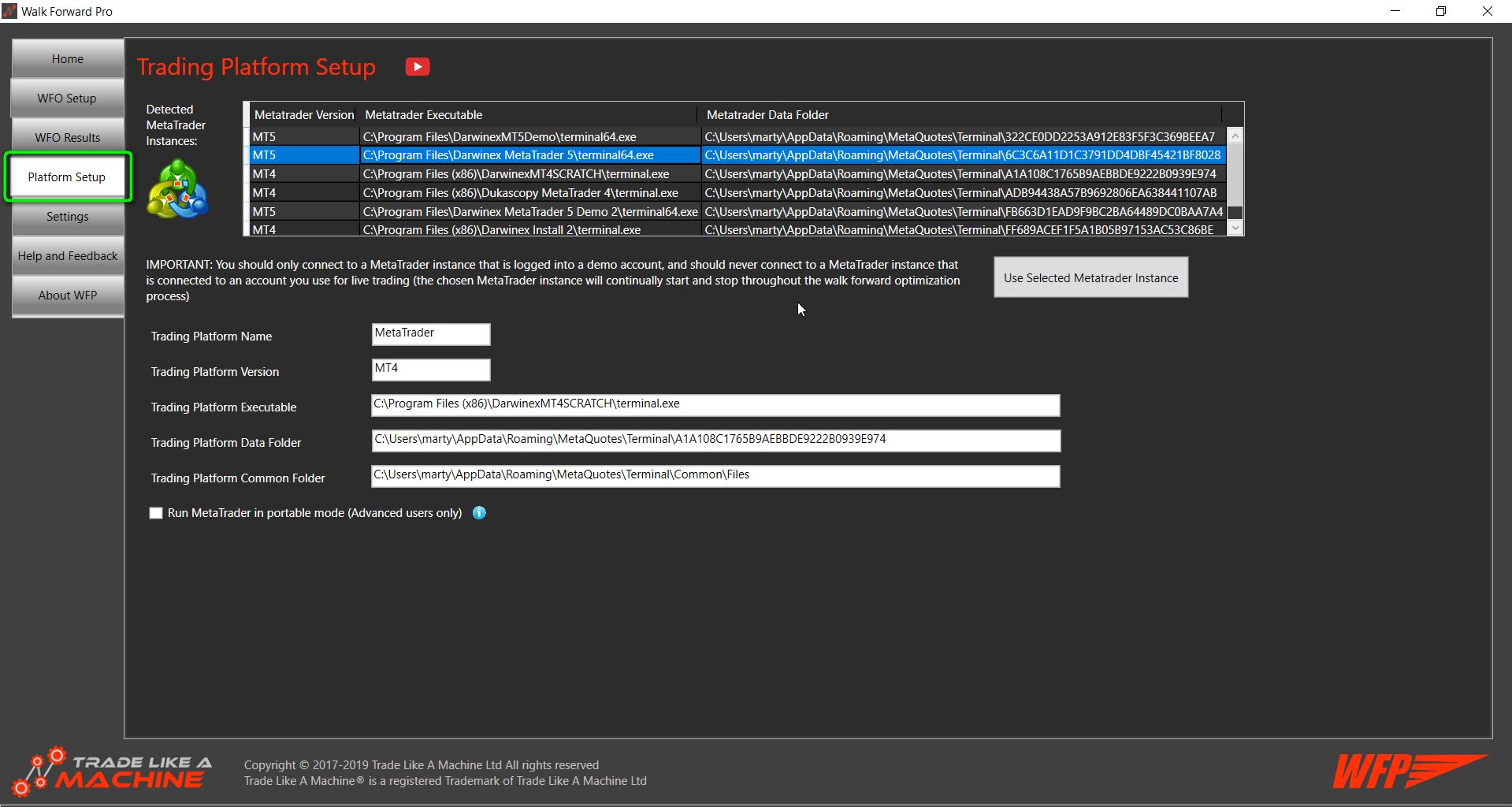 'Settings' Screen
The Settings screen allows the user to configure Walk Forward Pro to their own requirements.
'Help and Feedback' Screen
This screen provides information regarding your unique customer ID, your licence details, a handy code snippet checker, and details for technical support should you require it.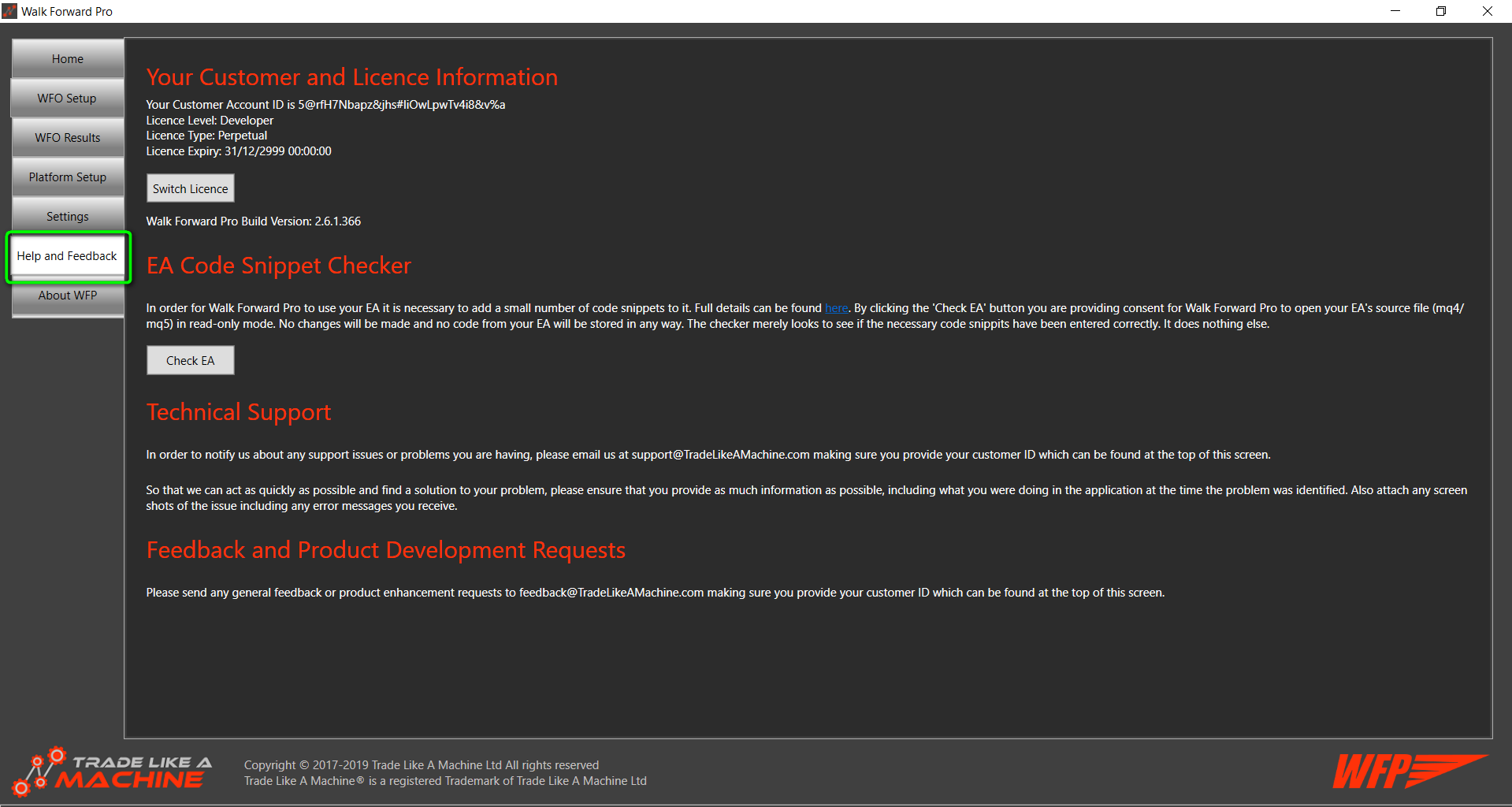 Subscribe to our newsletter
By subscribing you are giving your consent to send you emails in accordance with our privacy policy
We are passionate about algorithmic trading, and about helping other algorithmic traders reach their full potential.
We help traders to develop robust trading systems that deliver results in live accounts.
June 12, 2018
---
May 19, 2018
Built in Yorkshire, UK
Proudly serving Europe and the World